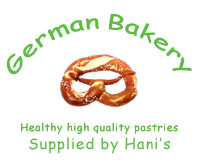 Home
Blog

Produk Kami
Tentang Kami
Bagaimana Menemukan Kami
Hubungi Kami
Would shop more often with us if we were also open in the afternoon?
Selamat Datang Di Jogja-Bakery.com !
Ini adalah situs terbaru toko roti Jerman di Jogjakarta (Yogyakarta/Jogja/Yogya...).
Kami berharap situs ini memberikan semua yang Anda ingin tahu tentang kami. Jika tidak, silahkan menghubungi kami! Terima kasih.
Untuk membuka foto pesta pembukaan kami pada hari sabtu, 10 Januari 2009, silahkan klik di sini!
Pemberitahuan
Kami buka lagi. Kami harap kamu selamat Idul Fitri!