Corporate Blog
Shop closed - supposedly for good November 8

th

, 2009
Unfortunately, we had to close the shop. We have too few customers.
We don't know yet if we will ever open it again but we will go on selling on special events like at the LIP or UGM. If you want us for such an event, please contact us!
We thank all those who have supported us this year, our first and (supposedly) last with a physical shop.
View Comments
Max & Moritz, the fourth Oktober 3

rd

, 2009
After a long time during which I was very busy and thus didn't have much time for the blog, unfortunately, I am saying sorry to those who were waiting with excitement for the next trick of our two crooks. So, finally, here, it is. Enjoy!
Third Trick
Through the town and country round
Was one Mr. Buck renowned.
Sunday coats, and week-day sackcoats,
Bob-tails, swallow-tails, and frock coats,
Gaiters, breeches, hunting-jackets;
Waistcoats, with commodious pockets,-
And other things, too long to mention,
Claimed Mr. Tailor Buck's attention.
Or, if any thing wanted doing
In the way of darning, sewing,
Piecing, patching,-if a button
Needed to be fixed or put on,-
Any thing of any kind,
Anywhere, before, behind,-
Master Buck could do the same,
For it was his life's great aim.
Therefore all the population
Held him high in estimation.
Max and Moritz tried to invent
Ways to plague this worthy gent.
Right before the Sartor's dwelling
Ran a swift stream, roaring, swelling.
This swift stream a bridge did span.
And the road across it ran.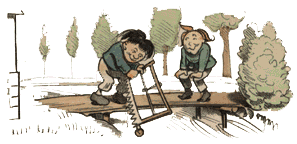 Max and Moritz (naught could awe them!)
Took a saw, when no one saw them:
Ritze-ratze ! riddle-diddle!
Sawed a gap across the middle.
When this feat was finished well,
Suddenly was heard a yell: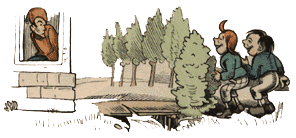 "Hallo, there! Come out, you buck!
Tailor, Tailor, muck! muck! muck!"
Buck could bear all sorts of jeering,
Jibes and jokes in silence hearing;
But this insult roused such anger,
Nature couldn't stand it longer.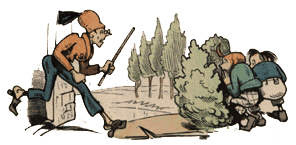 Wild with fury, up he started,
With his yard-stick out he darted;
For once more that frightful jeer,
"Muck! muck! muck!" rang loud and clear.
On the bridge one leap he makes;
Crash! beneath his weight it breaks.
Once more rings the cry, "Muck! muck!"
In, headforemost, plumps poor Buck!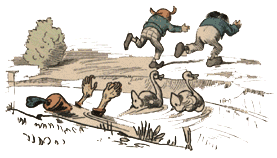 While the scared boys were skedaddling,
Down the brook two geese came paddling.
On the legs of these two geese,
With a death-clutch, Buck did seize;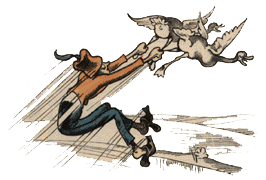 And, with both geese well in hand,
Flutters out upon dry land.
For the rest he did not find
Things exactly to his mind.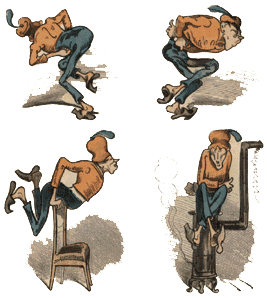 Soon it proved poor Buck had brought a
Dreadful belly-ache from the water.
Noble Mrs. Buck! She rises
Fully equal to the crisis;
With a hot flat-iron, she
Draws the cold out famously.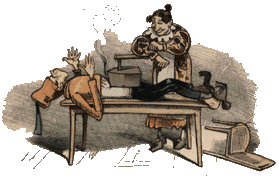 Soon 'twas in the mouths of men,
All through town: "Buck's up again!"
This was the bad boys' third trick,
But the fourth will follow quick.
Translated from the German original by Robert Godwin-Jones, Dept. of Foreign Languages, Virginia Commonwealth Univ.
View Comments
Idul Fitri
From September 15th to 29th, our shop will be closed. We wish you all happy Idul Fitri!
View Comments
Max & Moritz, the third August 19

th

, 2009
This is the third post about the crooks, Max and Moritz. Enjoy!
Second Trick
When the worthy Widow Tibbets
(Whom the cut below exhibits)
Had recovered, on the morrow,
From the dreadful shock of sorrow,
She (as soon as grief would let her
Think) began to think 'twere better
Just to take the dead, the dear ones
(Who in life were walking here once),
And in a still noonday hour
Them, well roasted, to devour.
True, it did seem almost wicked,
When they lay so bare and naked,
Picked, and singed before the blaze,--
They that once in happier days,
In the yard or garden ground,
All day long went scratching round.
Ah ! Frau Tibbets wept anew,
And poor Spitz was with her, too.
Max and Moritz smelt the savor.
"Climb the roof!" cried each young shaver.
Through the chimney now, with pleasure,
They behold the tempting treasure,
Headless, in the pan there, Iying,
Hissing, browning, steaming, frying.

At that moment down the cellar
(Dreaming not what soon befell her)
Widow Tibbets went for sour
Krout, which she would oft devour
With exceeding great deslre
(Warmed a little at the fire).
Up there on the roof, meanwhile,
They are doing things in style.
Max already with forethought
A long fishing-line has brought.
Schnupdiwup! a second bird!
Schnupdiwup! up comes the third!
Presto! number four they haul!
Schnupdiwup! we have them all!--
Spitz looks on, we must allow,
But he barks: Row-wow! Row-wow !.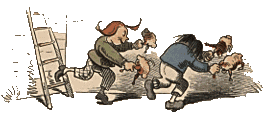 But the rogues are down instanter
From ths roof, and off they canter.--
Ha! I guess there'll be a humming;
Here's the Widow Tibbets coming!
Rooted stood she to the spot,
When the pan her vision caught.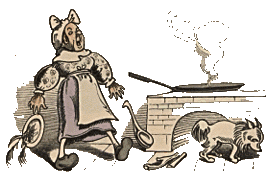 Gone was every blessed bird!
"Horrid Spitz!" was her first word.
"O you Spitz, you monster, you!
Let me beat him black and blue!"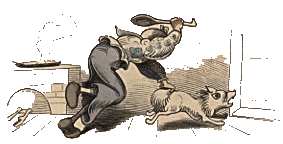 And the heavy ladle, thwack!
Comes down on poor Spitz's back!
Loud he yells with agony,
For he feels his conscience free.
Max and Moritz, dinner over,
In a hedge, snored under cover;
And of that great hen-feast now
Each has but a leg to show.
This was now the second trick,
But the third will follow quick.
Translated from the German original by Robert Godwin-Jones, Dept. of Foreign Languages, Virginia Commonwealth Univ.
View Comments
Max & Moritz, the second August 9

th

, 2009
This is the second post about the crooks, Max and Moritz. Enjoy!
First Trick
To most people who have leisure
Raising poultry gives great pleasure:
First, because the eggs they lay us
For the care we take repay us;
Secondly, that now and then
We can dine on roasted hen;
Thirdly, of the hen's and goose's
Feathers men make various uses.
Some folks like to rest their heads
In the night on feather beds.
One of these was Widow Tibbets,
Whom the cut you see exhibits.

Hens were hers in number three,
And a cock of majesty.
Max and Moritz took a view;
Fell to thinking what to do.
One, two, three! as soon as said,
They have sliced a loaf of bread,
Cut each piece again in four,
Each a finger thick, no more.
These to two cross-threads they tie,
Like a letter X they lie
In the widow's yard, with care
Stretched by those two rascals there.
Scarce the cock had seen the sight,
When he up and crew with might: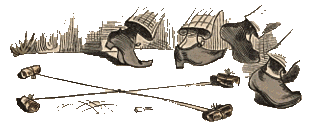 Cock-a-doodle-doodle-doo;--
Tack, tack, tack, the trio flew.
Cock and hens, like fowls unfed,
Gobbled each a piece of bread;
But they found, on taking thought,
Each of them was badly caught.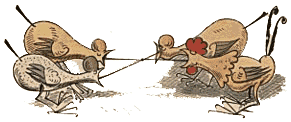 Every way they pull and twitch,
This strange cat's-cradle to unhitch;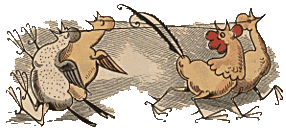 Up into the air they fly,
Jiminee, O Jimini!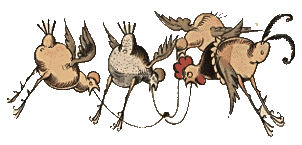 On a tree behold them dangling,
In the agony of strangling!
And their necks grow long and longer,
And their groans grow strong and stronger.
Each lays quickly one egg more,
Then they cross to th' other shore.
Widow Tibbets in her chamber,
By these death-cries waked from slumber,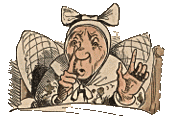 Rushes out with bodeful thought:
Heavens! what sight her vision caught!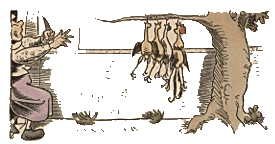 From her eyes the tears are streaming:
"Oh, my cares, my toil, my dreaming !
Ah, life's fairest hope," says she,
"Hangs upon that apple-tree."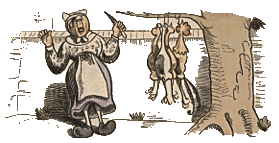 Heart-sick (you may well suppose).
For the carving-knife she goes;
Cuts the bodies from the bough,
Hanging cold and lifeless now;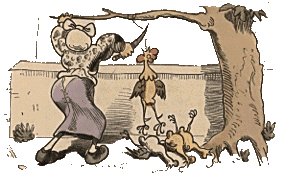 And in silence, bathed in tears,
Through her house-door disappears.
This was the bad boys' first trick,
But the second follows quick.
Translated from the German original by Robert Godwin-Jones, Dept. of Foreign Languages, Virginia Commonwealth Univ.
View Comments
Max & Moritz, the first July 31

st

, 2009
If you have already been in our shop, you might have noticed two pictures of two boys in comic style (see the picture on the right). Those two guys are famous in Germany. They are inventions of Wilhelm Busch, a German caricaturist, painter, and poet and a pioneer of comic-style books. All Max and Moritz stories are blackly humorous and entirely written in rhymed couplets. They were published in 1865 and ever since then told, respectivley read to children in order to teach them what they shouldn't be like.
This is the first of a series of posts in which I will tell you the stories of Max and Moritz.
Preface
Ah, how oft we read or hear of
Boys we almost stand in fear of!
For example, take these stories
Of two youths, named Max and Moritz,
Who, instead of early turning
Their young minds to useful learning,
Often leered with horrid features
At their lessons and their teachers.
Look now at the empty head: he
Is for mischief always ready.
Teasing creatures - climbing fences,
Stealing apples, pears, and quinces,
Is, of course, a deal more pleasant,
And far easier for the present,
Than to sit in schools or churches,
Fixed like roosters on their perches
But O dear, O dear, O deary,
When the end comes sad and dreary !
'Tis a dreadful thing to tell
That on Max and Moritz fell !
All they did this book rehearses,
Both in pictures and in verses.
Translated from the German original by Robert Godwin-Jones, Dept. of Foreign Languages, Virginia Commonwealth Univ.
View Comments
Toppings, the second July 22

nd

, 2009
For the evening or for a little in-between dish, especially during work, school or lectures, it is very famous in Germany to put either just butter on your roll or brezel or between two slices of bread or to add cheese and/or slices of sausages (doesn't have to be pork which, as we know, is prohibited for Muslims).
For vegetarians or people who want to reduce their meat-consumption due to health reasons or to contribute to the fight against global warming, there are plenty of alternatives: besides cheese (which in turn is not suitable/acceptable for vegans) you can also put salad, vegetables - very well work tomatoes, cucumber or carrots - or vegetable spreads (like creams) on pastries. Unfortunately, I don't know if vegetable spreads are (already) available in Jogja. In Germany, they are. A popular brand which I also like very much is Egle (unfortunately their website as well as their online-shop are only available in German). If anyone knows about vegetable spreads in Jogja or online in Bahasa Indonesia and/or from Indonesia, please post this in a comment!
In addition to those toppings you could also just put some salt or chives on a slice of bread with butter.
Another topping tasting great is slices of hard-boiled egg.
Simply try out what sounds delicious to you and tell us about your experiences!
View Comments
Toppings, the first July 12

th

, 2009
This is the first of a series of posts that will be about toppings. I'd like to write a bit about German food culture and things that taste great on our rolls, loafs and brezels.
Today, I'm writing about the typical German breakfast.
The typical German breakfast is based on bread like our white rolls or also our white loaf. For Sundays or real big fans of sweet food like me, the basis should be a little sweet pastry like a plaited/braided yeast bun.
On top of such pastries, Germans usually put either butter, fresh cheese or yoghurt and on top either honey, jam or any other marmalade or nutella (chocolate cream).
I myself, prefer several slices of plaited/braided yeast bun with fresh cheese or yoghurt out of which I eat at least one with any kind of marmalade, one with honey and one with nutella.
The breakfast just described should be combined with some orange or multi-vitamine juice and coffee, tea or hot/cold chocolate milk.
Enjoy your breakfast and tell us what your favorite breakfast looks like!
View Comments
Shop closed July, 8-13 July 5

th

, 2009
From July, 8th to 13th, the German Bakery will be closed because of the presidential elections. From July, 14th on, we'll be there for you, again.
View Comments
Europe Days a success July 3

rd

, 2009
According to Marie Le Sourd, director of the LIP, the Europe Days on June, 25-27 were an absolute success. They attracted more than 1200 people.
Also, the brezels, provided by us, the German Bakery, on Friday, were gone in only a few minutes. We thank everybody who went there. All photos of the event can be viewed here.
View Comments
Europe Days at the French Cultural Center June 14

th

, 2009
From June 25th to 27th, there will be the Europe Days di Yoygyakarta at the French Cultural Center (Centre culturel français / Lembaga Indonesia Prancis (LIP)), an expo where European products are shown.
The German Bakery will be represented there, too and everybody who is interested is kindly invited to visit this event.
On every of those days, there will be a program with several activities. The LIP is located in Jalan Sagan 3, Yogyakarta. For more information, please click on the poster or visit their website!
View Comments
Shorter Opening Hours June 1

st

, 2009
Unfortunately, at the moment, we can only open from 7 a.m. to 1 p.m. and on Sunday only until 12:30 because of a lack of staff. We will change this again to the usual opening hours a.s.a.p.. Thank you for your understanding.
View Comments
Facebook May 23

rd

, 2009
We are on facebook, too, now. Talk with others about us, our products and yours whishes, there!
View Comments
Hard beginning May 22

nd

, 2009
In the first 4 months, we attracted more and more customers but unfortunately not enough to pay our employees out of the money the bakery earned. So we had to pay them from our private savings which is kind of hard because all of us are still students. But, we manage to get along and so we hope that soon, our new business will be able to contribute more to its costs.
View Comments
The Expo on the campus of the UGM May 20

th

, 2009
To be honest, this company, the German Bakery, only came to be started due to a request by a study class at the UGM (Universitas Gadjah Mada, Yogyakarta), Entrepreneurship. All students of this class had to form teams and each team had to start its own business.
On January 18th, 2009, all of the students of Entrepreneurship class had to participate in an expo and present their businesses. This expo was a complete success to get people to know our business and also to sell a lot. Since it took place during the famous Sunday Morning UGM market, we had the fortune to benefit from many passers-by.
For pictures from the expo please click here!
View Comments
Opening Party May 18

th

, 2009
On January, 10th, 2009, we opened our store in East Yogyakarta. On that day, several people from the neigborhood came over and checked out our place. Many of our friends also came which made us very happy.
For pictures about our opening party please click here!
View Comments