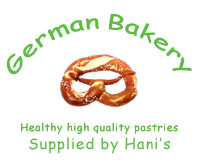 Home
Blog
Our products
About us
How to find us
Contact us
Would shop more often with us if we were also open in the afternoon?
Welcome to Jogja-Bakery.com !
This is the website of the German Bakery in Jogjakarta (or Yogyakarta/Jogja/Yogya a.s.o.) which was founded by three students of the UGM in January 2009.
We strive to bring healthy and tasty German food to the Eastern part of Yogyakarta. We hope this site provides you with all you want to know about us and our delicious pastry products. If not, please contact us!
News
Unfortunately, we had to close the shop. We have too few customers. We don't know yet if we will ever open it again but we will go on selling on special events like at the LIP or UGM. If you want us for such an event, please contact us!
We thank all those who have supported us this year, our first and (supposedly) last with a physical shop.